Globally Harmonized System Classification Timeline
As we move into a global economy, clear communication becomes a necessity. Give your employees the basic information about the Globally Harmonized System (GHS) for Classification and Labeling of Chemicals. The deadline to have your employees trained is December 1, 2013. This training DVD program covers: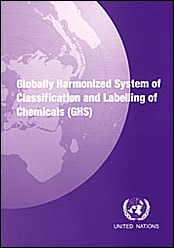 Introduction: This section provides an overview to the new unified, worldwide system of hazard communication called the Global Harmonization System or GHS.
Hazard Categories: This section provides training in the three Hazard Categories established by GHS (Physical, Health & Environmental). The definitions of hazard have been changed to provide specific criterial for classification of health and physical hazards, as well as classification of mixtures. These changes will help ensure that evaluations of hazardous effects are consistent across manufactures, and that labels and safety datasheets are more accurate as a result.
Labeling: This section provides training on how the chemical manufactures and importers will be required to provide a label that includes a harmonized signal word, pictogram, and hazard statement for each hazard class and category. Precautionary statements must also be provided.
Pictograms: This section covers the 9 (nine) new Pictograms to be used under GHS, and the materials to witch they relate.
SDS: Training on the new Safety Data Sheets (formerly known as Materials Safety Data Sheets) and the the 16 (sixteen) new headings.
OSHA is requiring that employees are trained on the new label elements (i.e., pictograms, hazard statements, precautionary statements, and signal words) and SDS format by December 1, 2013, while full compliance with the final rule will begin in 2015. OSHA believes that American workplaces will soon begin to receive labels and SDSs that are consistent with the GHS, since many American and foreign chemical manufacturers have already begun to produce HazCom 2012/GHS-compliant labels and SDSs. It is important to ensure that when employees begin to see the new labels and SDSs in their workplaces, they will be familiar with them, understand how to use them, and access the information effectively. The table below summarizes the phase-in dates required under the revised Hazard Communication Standard (HCS):
| EFFECTIVE COMPLETION DATE | REQUIREMENT(S) | WHO |
| --- | --- | --- |
| December 1, 2013 | train employees on the new label elements and safety data sheet (SDS) format. | Employers |
| June 1, 2015*December 1, 2015 | Compliance with all modified provisions of this final rule, except: the Distributor shall not ship containers labeled by the chemical manufacturer or importer unless it is a GHS label | Chemical manufacturers, importers, distributors and employers |
| June 1, 2016 | Update alternative workplace labeling and hazard communication program as necessary, and provide additional employee training for newly identified physical or health hazards. | Employers |
| Transition Period to the effective completion dates noted above | May comply with either 29 CFR 1910.1200 (the final standard), or the current standard, or both | Chemical manufacturers, importers, distributors, and employers |
https://pwimagecdn.infinitiworkforce.com/wp-content/uploads/2023/03/Infiniti-i-Logo-Teal_padded-for-site.png
0
0
infinitiworkforce
https://pwimagecdn.infinitiworkforce.com/wp-content/uploads/2023/03/Infiniti-i-Logo-Teal_padded-for-site.png
infinitiworkforce
2015-03-31 19:00:00
2023-07-27 11:35:13
Globally Harmonized System Classification Timeline