Vertical Alliance Group Adds 5 New Training Videos for Trucking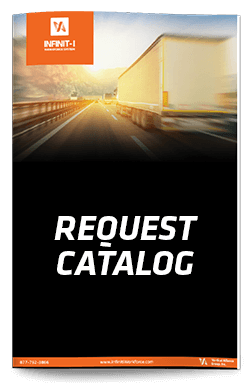 Did you know that according to the Bureau of Labor Statistics, truck drivers are missing more days of work due to on-the-job injuries than they have in the past? A 2014 study revealed drivers now require a median of 22 days away from work to recuperate from on the job injuries or illnesses – a number that is rising. Unfortunately, the nature of the trucking industry leaves complacent truck drivers more susceptible to slips, trips, and falls throughout the course of their workday.  Listed as three of the top injuries sustained by truck drivers outside of injuries obtained in a wreck, this trio of preventable accidents can cost trucking companies thousands of dollars in both productivity and increased worker's compensation premiums. Additionally, high rates of on-the-job injuries can dramatically impact driver recruitment and retention efforts.
Real. Life. Lessons. Series Aims to Decrease Safety Awareness Complacency
To help Infinit-I Workforce System clients combat driver complacency in these often overlooked areas of ongoing safety awareness training, Vertical Alliance Group has teamed up with Midwestern Insurance Alliance to produce a series of training videos, Real. Life. Lessons., This series is designed to help trucking companies decrease their number of preventable on-the-job injuries. Most workplace accidents are preventable. Accidents in the trucking industry, however, are a bit more complicated. Unlike other industries, truck drivers and the companies they work for do not always have complete control over a worksite area.
The Real. Life. Lessons. series is designed to provide quick three to five minute video reminders about the dangers that can happen anywhere a trucker may be working. Drivers spend long hours sitting followed by the sudden need to do physical work.  Over time, this type of environment lends itself to driver complacency.  That is why ongoing reminders involving best practices for safety in and around the truck are important for not only the safety of the driver but also for the prevention of accidents that can lead to driver downtime and increased worker's compensation premiums. The Real. Life. Lessons series can serve as your arsenal of simulation video training tools to help you educate your drivers about the avoidable dangers of driving a truck, while also ensuring safety awareness is top-of-mind.  Currently, there are more than 20 titles in the series, with 5 new titles being released each month in 2015.  New releases in this series for May include:
White Line Fever The driving lifestyle can offer several unhealthy challenges. Remember, you are the one who benefits the most from leading a healthy lifestyle.
There's a Reason for Everything Mary Ann is injured and becomes medically unqualified to drive when she ignores directions and attempts to correct a loading issue herself.
Not Built to Climb Jim falls from his trailer while trying to get down after placing load locks.
It Looked Like a Good Idea Abe injures his leg while attempting to use a guardrail as a stepladder.
Deer, Dogs, and Damage Seth and George both crash their vehicles and are injured while attempting to avoid a collision with an animal. Swerving to avoid an animal most often results in property damage and personal injury.
If you are interested in learning more about how to most effectively utilize this new training series in your company, please contact your client services representative who will gladly help you create a unique lesson plan that will allow you to take full advantage of this new video training tool in your Infinit-I Workforce System.
https://pwimagecdn.infinitiworkforce.com/wp-content/uploads/2023/03/Infiniti-i-Logo-Teal_padded-for-site.png
0
0
infinitiworkforce
https://pwimagecdn.infinitiworkforce.com/wp-content/uploads/2023/03/Infiniti-i-Logo-Teal_padded-for-site.png
infinitiworkforce
2015-05-26 19:00:00
2022-08-16 15:51:26
Vertical Alliance Group Adds 5 New Training Videos for Trucking