Boot Camp Program Now an Approved NATMI Safety Event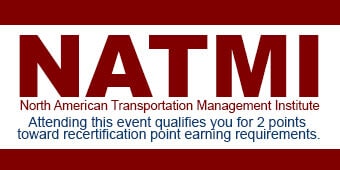 Vertical Alliance Group recently announced their Infinit-I Engage Evaluation Program has been approved by the North American Transportation Management Institute (NATMI) and earns certified safety directors two recertification points. Learn more about the accredidation here.
The two day event provides attendees with a unique opportunity to explore the benefits of implementing online training within their company. As a hands-on event, attendees are given the opportunity to learn "Best Practices" related to a successful online training program utilizing, the Infinit-I Workforce System, while enjoying a unique Texas setting and great southern hospitality.
Additionally, event goers spend time learning how to create customized safety training content in quick and affordable ways. During this portion of the event, each attendee has the opportunity to create their own customized safety training video that can be utilized in all of their future safety training efforts.
The event features a keynote address by a former safety director, Dean Huth, who shares firsthand the challenges of relying on a traditional paper method of tracking driver training and how costly it can be when it fails companies who wind up in an audit or a courtroom. His talk centers around educating safety directors on how to mitigate large and costly judgements associated with punitive damages. "You will go to court if you do this a long time. It's not a question of if. It's a question of when.
When it comes to your training: If it's not in writing, not signed, not dated, or you can't find it, it simply didn't happen," Huth explained during a recent keynote address at the event.
To learn more about attending an Infinit-I Engage Evaluation Program, or to learn more about the NATMI certification, call 866-775-4669, ext. 103.
https://pwimagecdn.infinitiworkforce.com/wp-content/uploads/2023/03/Infiniti-i-Logo-Teal_padded-for-site.png
0
0
infinitiworkforce
https://pwimagecdn.infinitiworkforce.com/wp-content/uploads/2023/03/Infiniti-i-Logo-Teal_padded-for-site.png
infinitiworkforce
2015-06-28 19:00:00
2022-05-17 15:17:45
Boot Camp Program Now an Approved NATMI Safety Event