CCJ Features Infinit-I for Driver Training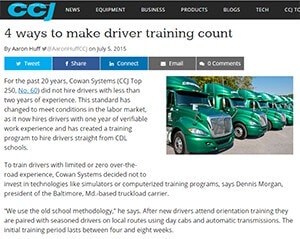 This week the Commercial Carrier Journal again featured the Infinit-I Workforce System in their publication. In the article, Aaron Huff wrote, "Whether fleets decide to use old school or high-tech training methods, experts say it is critical to document every aspect of the training process."
This is a point Vertical Alliance Group works hard to educate trucking companies about.  At our bi-monthly Infinit-I Engage Evaluation Program, former safety director Dean Huth preaches, "If it's not in writing, if it's not signed, if it's not dated, if you can't find it, it simply didn't happen."
Dean often refers to a story that has now become known as the $64 Million Mistake.
The Infinit-I Workforce System was designed to allow trucking companies an easy way to create, manage, distribute, and track training. In addition to providing a comprehensive content library that features new training videos added on a monthly basis, the Infinit-I Workforce system also allows companies to develop their own custom content to use on the system.
Additionally, the system provides a unique driver resource area where all documents your driver needs access to can be placed for easy access from anywhere they are in the world. In his article, Aaron Huff also talks about the benefits of utilizing an online learning management tool like the Infinit-I Workforce System. "One way to streamline driver training is with software designed to manage and monitor the progress of drivers through every stage in a formal training program," Huff writes.
If you would like to learn more about online training, you can schedule a demo.  One of our account executives will reach out to you and help you explore online training in detail.  Additionally, you can claim a free ticket to our Infinit-I Engage Evaluation Program and learn more about that event.
https://pwimagecdn.infinitiworkforce.com/wp-content/uploads/2023/03/Infiniti-i-Logo-Teal_padded-for-site.png
0
0
infinitiworkforce
https://pwimagecdn.infinitiworkforce.com/wp-content/uploads/2023/03/Infiniti-i-Logo-Teal_padded-for-site.png
infinitiworkforce
2015-07-06 19:00:00
2022-08-16 13:31:07
CCJ Features Infinit-I for Driver Training