Vero Logistics, LLC Attends August Training Boot Camp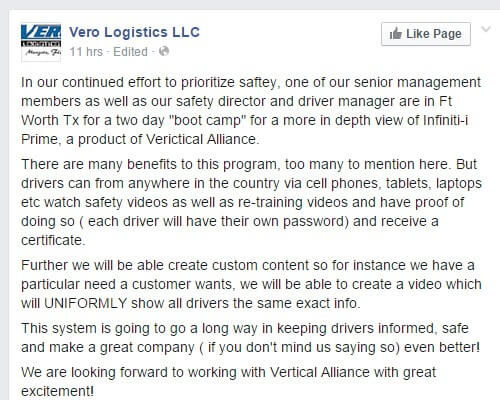 Vertical Alliance Group, Inc. is excited to have Vero Logistics as an attendee at our Infinit-I Engage Evaluation Program this week.  Check out what they wrote about us on their Facebook Page:
"In our continued effort to prioritize safety, one of our senior management members as well as our safety director and driver manager are in Ft. Worth, Texas for a two-day Infinit-I Engage Evaluation Program for a more in-depth view of Infinit-I Workforce System, a product of Vertical Alliance.
"There are many benefits to this program, too many to mention here. But drivers can, from anywhere in the country via cell phones, tablets, laptops, etc…, watch safety videos as well as re-training videos and have proof of doing so (each driver will have their own password) and receive a certificate. "Further we will be able create custom content. So for instance, we have a particular need a customer wants, we will be able to create a video which will UNIFORMLY show all drivers the same exact info. This system is going to go a long way in keeping drivers informed, safe, and make a great company ( if you don't mind us saying so) even better!
"We are looking forward to working with Vertical Alliance with great excitement!" If you'd like to learn more about how the Infinit-I Workforce System can help your company, schedule a demo!
https://pwimagecdn.infinitiworkforce.com/wp-content/uploads/2023/03/Infiniti-i-Logo-Teal_padded-for-site.png
0
0
infinitiworkforce
https://pwimagecdn.infinitiworkforce.com/wp-content/uploads/2023/03/Infiniti-i-Logo-Teal_padded-for-site.png
infinitiworkforce
2015-08-04 19:00:00
2022-08-16 13:00:42
Vero Logistics, LLC Attends August Training Boot Camp