The article below originally appeared in the Spring 2016 Issue of of Trux, a publication of the Georgia Motor Truck Association.  Click here to view the original article.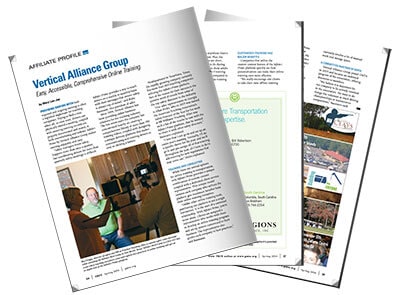 Providing drivers with both required and ongoing training is often a logistical nightmare for trucking companies. Trying to find a time when all, or even most, drivers can physically attend a meeting, coupled with ensuring training records are properly documented and stored, is both overwhelming and tedious. Infinit-I Workforce System by Vertical Alliance Group makes training enjoyable and easy. "Safety managers know safety happens more than once a quarter, but coordinating drivers for more than quarterly safety meetings is difficult. Infinit-I Workforce System provides a way to touch drivers on a weekly or monthly basis with short messages that ensure safety is always top-of-mind," said Blake Baumann, vice president of sales at Vertical Alliance. Since 1999, Vertical Alliance has been providing online business solutions for the trucking industry.
The last seven years the company has concentrated heavily on creating a comprehensive library of more than 350 training videos, coupled with designing a unique delivery platform that makes communicating and training drivers as easy as clicking a button. Headquartered in Texarkana, Texas, the rapidly growing company currently has more than 800 trucking companies utilizing the Infinit-I Workforce System. Part of the reason for their success is the positive word of mouth from some of the top safety directors in the industry. "Our sales representative in Georgia is Allan Hicks, who in 2015 was named the American Trucking Association's Safety Director of the Year for his work at BR Williams Trucking.
Allan was such a fan of the results he saw with the Infinit-I Workforce System, he wanted to share it with other safety directors," Baumann explained. "I love that I can go in and set up an entire year's training. Normally, I'll do a specific theme for the year, and we'll go in and preassign all of that training. Throughout the year, all I have to do is add training for new regulations that may come out," Allan Hicks explained.
Training and Consulting
While there are several options for online training in transportation, only Infinit-I Workforce System provides a unique combination of custom content coupled with a dedicated client service representative. This unique model ensures each company who utilizes the platform gets maximum benefits from their online training initiatives. "Unlike other online training tools, purchasing our platform is not a single transaction. It is the start of a continual relationship. With Infinit-I Workforce System, you're never alone. Clients are assigned a representative who works with them to develop an online training program and set-up the system custom to their business. The rep also guides each company in best practices," said Baumann. Perhaps the biggest differentiator in the Infinit-i Workforce System, however, comes in the way prospect companies evaluate utilizing the system. Vertical Alliance hosts Infinit-I Engage Evaluation Programs in Dallas, Texas. These free events not only allow prospects to explore the system, but they also introduce best practices in online training. "Technology and the industry have greatly changed since we started in this business. Drivers no longer go down to Blockbuster to rent a video for entertainment. Now they're watching YouTube, Facebook, and NetFlix. They no longer use a payphone to call home. Instead they use services like FaceTime to video chat with their family. Boot Camp is designed to help trucking companies learn how to adapt their current training methods to the new technology age their drivers now live in," said Baumann.
Timely Topics in Short Segments
When creating the training sessions for drivers and other employees, Vertical Alliance follows a three-step philosophy: Make training available anywhere and anytime; keep it short and simple; and customize it. "We design all of our training courses to work on mobile devices, so drivers can train anywhere there's an Internet connection. Plus, the majority of our videos are short, making training easy to do during daily downtime. Studies show adults retain more information if training is less than 10 minutes, compared to traditional 30 to 45 minute training videos," Baumann said.
Customized Training Has Major Benefits
Companies who utilize the custom content feature of the Infinit-I Workforce System quickly see how personalization can make their online training even more effective. "We really encourage our clients to take their own offline training information and put those resources onto our system," said Baumann. "We provide ways to help them make custom training videos featuring their own equipment and team members. Drivers are more likely to pay close attention to a safety training session that features someone they know rather than a stranger." Other ways Infinit-i Workforce System users utilize this feature include adding welcome messages from the president or CEO.
Companies who have utilized this feature have seen reductions in driver turnover by as much as 10 percent. "We've repeatedly seen positive results in driver retention rates at companies where executives record monthly messages talking about how important drivers are to the company, letting them know what's going on, or even just wishing people happy birthday or congratulating them on a service anniversary." In addition, clients can use custom sessions to help their drivers solve a unique problem to their fleets. Baumann recalled one client whose drivers, guided by GPS, used a certain street that wouldn't allow them to turn around to get out. The drivers had to call police and stop traffic to allow them to back out of the space…a time-consuming and costly effort. So the company created a custom video that actually took drivers to the problematic road and advised them to ignore the GPS and use an alternate route. The client has not had the problem since that video went online. Although the thought of creating personalized training content may sound daunting, Vertical Alliance Group covers cost effective ways to create custom content at the Infinit-i Engage Evaluation Program.
For companies who may not want to spend the times themselves filming and editing content, Vertical Alliance also has an in-house production team available. "Creating custom training is as simple as recording something on a smart phone and then putting it on a USB drive or into a Dropbox folder for us to put on the system. We do all the tech work to get it online," said Baumann. In addition to the Infinit-i Workforce System, which is designed for fleets with 15 or more drivers, the company also offers a scaled down version of the system , designed for smaller fleets. Later this year, the company is rolling out a new product that enables trucking companies to put all of their current paper forms into an electronic format, easily automating workflow and enabling companies to quickly generate reports and access files online that currently involve a lot of manual work and storage space.
A Committed Partner of the GMTA
Vertical Alliance Group joined GMTA in February 2015 after Infinit-I Workforce System became an endorsed partner of the association. "We believe it is important for our company be actively involved in the industry. We want to get entrenched and do things like volunteering at truck driving championships or maintenance competitions," Baumann said. Vertical Alliance Group offers discounts to GMTA members.
To learn more about the discounts and other things mentioned in this article, fill out the demo request , or call Allan at 866-427-8219.
---
This article originally appeared in the Spring 2016 Issue of of Trux, a publication of the Georgia Motor Truck Association.  Click here to view the original article.
---