15 Safety Professionals Graduated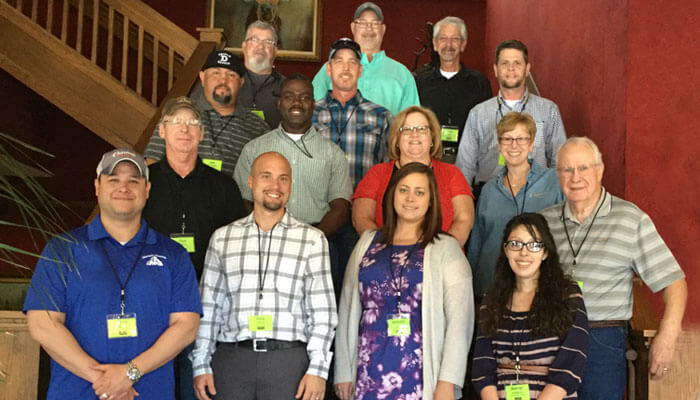 Vertical Alliance Group, would like to recognize the representatives from six companies across the transportation industry who attended our Infinit-I Engage Evaluation Program May 11th and 12th at the historic Stockyards Hotel in Fort Worth, Texas. Throughout the two day event, attendees learned the latest trends in safety training, along with strategies to mitigate their risk of failing a DOT audit or having to pay large punitive damage sums in the event of an accident. Attendees included:
Berle Tate, Owner, Berle Tate Consulting Services
Guy Rogers, Transportation Manager, Charley's Concrete Co., Inc.
Chris Villescas, Recruiter, Charley's Concrete Co., Inc.
Liz Starkey, Human Resources Manager, Charley's Concrete Co., Inc.
Jack Bridges, Safety Director, Colorado Crude Carriers, Inc.
Joey Obrion, Director of Recruiting, Decker Truck Line, Inc.
Jennifer Lawler, Safety, Decker Truck Line, Inc.
James Waggoner, Safety Director, Ensign United States Drilling, Inc.
Shaun Stoker, Safety Director, Flex Capital Transport, LLC
Andrew McFadden, Transportation Safety Manager, Freshpack Produce, Inc.
Martin Shampo, Safety Director, Freshpack Produce, Inc.
Ricky Parker, Director of Safety, KLLM Transport Services, LLC
Amber Rodriguez, Safety, Supreme Auto Transport, Inc.
Joe Quintanilla, Safety Director, Triple D Supply, LLC
Robin Wilson, DOT Safety Coordinator, Vanquish Worldwide
If you'd like to attend one of our next events, complete the registration form.
https://pwimagecdn.infinitiworkforce.com/wp-content/uploads/2023/03/Infiniti-i-Logo-Teal_padded-for-site.png
0
0
infinitiworkforce
https://pwimagecdn.infinitiworkforce.com/wp-content/uploads/2023/03/Infiniti-i-Logo-Teal_padded-for-site.png
infinitiworkforce
2016-05-10 19:00:00
2022-05-19 11:06:48
15 Safety Professionals Graduated