Adds 5 New Training Videos for Trucking
Our Real. Life. Lessons. videos are produced in conjunction with Midwestern Insurance Alliance and use sample stories to bring awareness of preventable on-the-job accidents using a conversational style. The videos are perfect truck driver safety training videos to use at your safety meetings. Each month we are releasing a series of 5 new stories available exclusively to those with access to the Infinit-I Workforce System. The goal of each short video is to help you reduce the number of on-the-job injuries, thus keeping your worker's compensation insurance premiums down.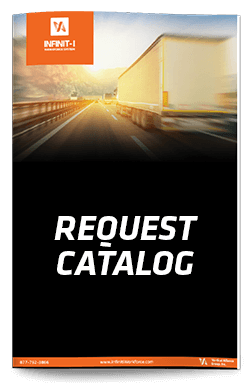 Our May 2016 video releases in this series include:
Contact
Length: 03:20
Carl and Tim both have collisions with overhead objects. Always remember to be mindful of your overhead clearance.
Module: Driving
Driver Swerves to Avoid Deer and Overturns Truck
Length: 02:59
Seth narrowly escapes severe injury after he swerves to avoid a deer. DO NOT swerve at high speeds to avoid an animal as this maneuver vastly increases the likelihood of a fatality.
Module: Driving
Falling Load Impacts Driver's Leg
Length: 02:50
Tom's leg is crushed by a falling load. Remember to park on level ground and stay out of danger zones while loading and unloading.
Module: Loading/Assisting to Load Flatbed Freight
I Do Not Feel Good
Length: 02:48
Harry narrowly avoids tragedy. Remember, your health is extremely important. Do not hesitate to notify management of potential health issues.
Module: Inside Parked Truck
Icy Cab Step Leads to a Broken Arm
Length: 02:34
Barry slips from his truck and breaks his arm. Remember, during cold weather when ice could form, run your foot across the top running board before stepping onto it to see if it has iced up and always use three points of contact.
Module: Entering/Exiting Truck Cab
Test Drive the Series
Want to sample the series??  Fill out the form, and we'll send you 3 videos over the next 3 days for you to checkout this series.  Each video will come with ideas on how you can incorporate this series into your ongoing driver safety training.
---
https://pwimagecdn.infinitiworkforce.com/wp-content/uploads/2023/03/Infiniti-i-Logo-Teal_padded-for-site.png
0
0
infinitiworkforce
https://pwimagecdn.infinitiworkforce.com/wp-content/uploads/2023/03/Infiniti-i-Logo-Teal_padded-for-site.png
infinitiworkforce
2016-05-11 19:00:00
2022-08-12 16:19:14
Adds 5 New Training Videos for Trucking