7 Best Practices for Online Training

Study Finds Keys to Engagement with Online Training
An MIT study of 6.9 million video sessions identified the keys to improve engagement when it comes to online training. Among these key features, the study highlighted shorter lessons, less formality, and web-friendly lessons.
Seven key elements were found that improve the efficiency of online platforms. When it comes to developing a training program that utilizes online materials, you want to make sure you hit these areas to get the best results.
Seven Best Practices for Training
The seven elements MIT found necessary for training were:
Shorter Videos
Incorporating non-static visuals
Pauses to allow for comprehension
Less formality
Provide web-friendly options
Incorporate people outside of classroom settings
Deliver content with enthusiasm
The shorter videos allow people to process the training materials without losing focus, meaning better comprehension and retention. Keeping videos to an average of 6 minutes can increase participation in your training program, meaning better results for your company.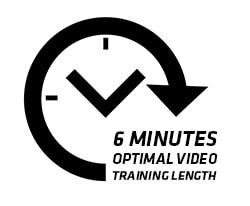 Infinit-I Workforce Solutions stands out when it comes to employee training because we offer an online platform that utilizes these key features to provide the training you need in the workforce. We provide training that can be accessed from any device with an internet connection through the website or apps.
We also keep our videos as short as possible to increase our clients' success with their online training program. Most of our videos are between 3-8 minutes, and it is not uncommon for our clients to echo the MIT study if they have used other training platforms before switching to us.
Clients Share Why Infinit-I Meets Their Training Needs
Many clients have shared how the shorter training videos are better for their drivers. Ricky Parker, Director of Safety for KLLM Transport says:
"The other companies, they have 30-minute training sessions. Have you ever sat a driver down and tried to lecture him for 30 minutes about something?
You lose their concentration. They don't retain it. With this, 7 minutes is perfect; they retain it."
Bill Beaty, Safety Director for Earl L. Henderson Trucking agrees:
"We were using (competitor) who had videos that were a little bit long, and the average attention span for drivers was not quite there. So, we decided to go with something else, and we were highly recommended to use Infinit-I Workforce System.
The video content, video catalog, was the main reason we switched. We felt like the videos were short and to the point. We were looking for short that would keep their attention.
We were recommended to switch to Infinit-I Workforce System by a third party consultant. We viewed it, and we loved it."
This is just two of the many clients who have shared their success with the Infinit-I online training system.
Discover the Benefits of a Well-Designed Training Program
Infinit-I is constantly looking for ways to improve our training platform to make it easier and better for our clients. We incorporate the best practices of the training industry to ensure you can provide all orientation, ongoing, and corrective action training needs to improve employee performance.
Would you like to see for yourself how the Infinit-I system can streamline your training program? Schedule a demo to learn more about the features that make us the #1 training system in the transportation industry.
https://pwimagecdn.infinitiworkforce.com/wp-content/uploads/2021/12/online-learning-video-conference-webinar-5163039.jpg?strip=all&lossy=1&quality=90&ssl=1
853
1280
infinitiworkforce
https://pwimagecdn.infinitiworkforce.com/wp-content/uploads/2023/03/Infiniti-i-Logo-Teal_padded-for-site.png
infinitiworkforce
2016-09-15 19:00:00
2021-12-15 09:29:13
7 Best Practices for Online Training