Great Training Videos for Trucking
Vertical Alliance Group is committed to ensuring you have access to the best training videos in the industry. This month we released seven new training videos. View Our Training Library Today.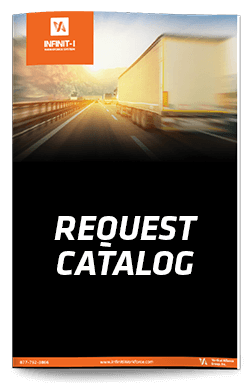 Driver Struck by Forklift Inside Trailer
Length: 02:22
Nate is, fortunately, uninjured after being struck by a forklift. Do not engage in physical activity that is not defined as part of your job. Always be careful around forklifts and make sure forklift operators are aware of your presence.
Section: Real. Life. Lessons
Module: Unloading/Assisting/Tailgating Freight
Jackknifing
Length: 04:45
Defines the scenario known as jackknifing; describes the physics of the event and describes the dangers of the event; describes and defines trailer pull; discusses the causes of both events and describes prevention techniques and emergency response techniques; defines anti-lock braking systems (ABS).
Section: Trucking
Module: Jackknifing
Bridges and Overpasses/Puentes y Pasos Superiores
Length: 08:29
This is the Spanish version of video currently available in our catalog in English. This video describes the potential hazards and dangers of bridges and overpasses to large commercial vehicles. Proper prevention techniques and reporting procedures are demonstrated in the video. Black ice is also discussed.
Section: New Spanish Videos
Module: Bridges and Overpasses
Time-Delayed Release – Liberacion con Retardo de Tiempo
Length: 04:10
This is the Spanish version of video currently available in our catalog in English. In this video Jon herniated a lumbar disc during a slip. Jon's awareness allowed him to recognize his condition before it got worse.
Section: New Spanish Video
Module: Time-Delayed Release
OSHA Walking Working Surfaces Rule
Length: 01:46:07
OSHA's Walking Working Surfaces Rule set new requirements for walking and working surfaces/fall protection in general industry. This rule sets new specifications for portable and fixed ladders, scaffolds, and personal fall arrest systems. It requires equipment and procedural changes in millions of workplaces across the United States, including ensuring all of your workers are trained on new procedures and equipment.
Section: Best Practices Webinars
Module: 2017 Webinars
Avoiding Liability Regarding Social Media in the Workplace
Length: 01:03:01
The NLRB has taken a very aggressive stance against employers who terminate employees because of what they do or say on social media. But it's not just firing an employee for what they posted on social media that can get your company in trouble. In addition to the NLRB, there are numerous other laws employers need to be concerned about when reviewing an employee's or an applicant's activity on social media activity.
Section: Human Resources Trial – Infinit-I
Module: Webinars
Expert Tips for ELD Implementation
Length: 01:03:11
By December 2017 truck drivers across the country must say goodbye to paper logbooks and start logging records of duty status electronically to show compliance with Hours of Service ("HOS"). This webinar looks at what the rule means for trucking companies and share how two top safety directors successfully rolled out ELDs at their companies.
Section: Best Practices Webinars
Module: 2017 Webinars
Please call your Client Service Representative at 877-792-3866, ext. 300, if you have any questions.
https://pwimagecdn.infinitiworkforce.com/wp-content/uploads/2023/03/Infiniti-i-Logo-Teal_padded-for-site.png
0
0
infinitiworkforce
https://pwimagecdn.infinitiworkforce.com/wp-content/uploads/2023/03/Infiniti-i-Logo-Teal_padded-for-site.png
infinitiworkforce
2017-05-10 06:41:00
2022-10-18 15:10:07
Great Training Videos for Trucking