How to Create a Custom Training Program with More Consistency and Less Manpower

Creating a Custom Training Program
As a safety director, you're tasked with creating custom training content for safety orientation, onboarding, and corrective action needs with limited time for yourself or your drivers. There never seems to be enough manpower or resources to keep up with all the necessary paperwork, which makes it difficult to track behaviors and training.
This lack of training resources can lead to increased accidents and CSA violations if you aren't careful. If you're trying to complete training using traditional in-person safety meetings, you make your job even more difficult between maintain documentation and getting drivers in to complete the necessary training.
You can make this job simpler with an online training management system like Infinit-I Workforce Solutions. You can provide the custom training your drivers need with the ability to track their progress. Best yet, all your documentation is ready at your fingertips when you need it.
The Value of Online Learning Management
Online learning management systems allow you to assign, track, and maintain documentation for all driver training in one place. Best of all, drivers can access the training from any device with an internet connection, so there is no need to pull them off the road.
The Infinit-I Workforce system provides:
850+ up-to-date training videos on a wide range of trucking safety issues
Access from any device anytime, anywhere
Easy set-up to meet your company-specific needs
Tracking capabilities to see driver progress with assigned training
Notifications for drivers to complete their training
Automated reporting
You can help improve CSA scores and insurance rates for your company with less time and effort. Plus, one of the best parts of the system is the ease of adding your own company custom training content.

The Value of Custom Content
The Infinit-I system was developed to provide trucking industry best practices for our clients. While we know the trucking industry, we don't know your company's specific culture. You have a set of core values that set you apart from other carriers.
The best way to train and maintain those set values is to provide that message yourself. Creating custom training content allows you to tailor a message to fit those specific needs.
You can develop training programs that use your own team to make the message more relatable to your drivers. You can have existing training uploaded to your training library to get continued use out of it.
You can develop videos to meet specific needs or concerns for your company. If there is an area your team is struggling with, custom content is a great way to provide further training on those issues. You can use this content to create a uniform message for your team, which in turn creates unity in your company.
Everyone, not just your drivers, can complete the same training so you maintain consistency. Help everyone move towards the same goals in this way.
During a webinar, Jay Winegardner, CEO of Truck One, discussed using the Infinit-I system to share his CEO message. On a monthly basis, Winegardner records a brief message for his team where he discusses news, latest training topics, and things that need to be worked on.
He can get information he needs to share this message from the available reporting features to know exactly what to target. His message can easily be uploaded to the system to give all his employees access to it.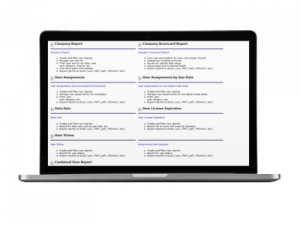 How Do You Access the Custom Content Feature?
Once you have located or created your custom content, you can contact your Client Success team. They will give you instructions on how to send it to be uploaded, then will let you know when it's available for your team.
Once the message or other content is available, you can easily and quickly give access to your team. If you need to provide some content only to certain members of your team, you can set up groups to make that possible.
Save Time with Online Custom Training
It's easy for both safety team members and drivers to work long hours, but sometimes your safety team can feel these hours aren't productive. With the right tools, you can make your time more effective.
Tools like Infinit-I Workforce Solutions allow you to provide training content to meet your company needs without disrupting schedules. Drivers can access their training from any device with an internet connection at their convenience, so their time is spent more effectively as well.
To learn more about the Infinit-I system and how it can work for your company, request a demo. With just 20 minutes you can see how easy the system is for both drivers and safety managers.
https://pwimagecdn.infinitiworkforce.com/wp-content/uploads/2018/04/VAG-BLOG-Training-with-less-manpower.png?strip=all&lossy=1&quality=90&ssl=1
262
935
infinitiworkforce
https://pwimagecdn.infinitiworkforce.com/wp-content/uploads/2023/03/Infiniti-i-Logo-Teal_padded-for-site.png
infinitiworkforce
2018-04-17 15:10:40
2021-12-28 14:54:51
How to Create a Custom Training Program with More Consistency and Less Manpower