Independent Contractors and Safety Training

In California recently, there have been efforts to legally classify some independent contractors as employees. Some verdicts determined that contractors who were asked to perform the role of an employee in specific ways should also receive employee benefits, including payroll taxes and health insurance.
Independent Contractors and Safety Training
Muddy Waters: Employees vs. Independent Contractors
What this points to is the often blurry lines between owner-operators and employees. Sometimes it seems clear enough. Contractors only take the loads they want. They own their own assets. But there can still be confusion about the specifics of their role in day-to-day functioning. 
If we draw a Venn diagram, which requirements and benefits of working with you should fall in the middle section? Which should only stay on one of two sides? Where would workers' comp, lease purchases, and insurance coverage fall, for example?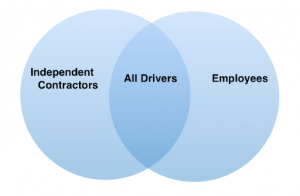 Managing a fleet of independent contractors is complex. 
Watch our webinar on Independent Contractors and legal issues.
There's a lot to figure out and refine according to your unique business situation. But what are your best practices when it comes to training? Training affects risk levels, accidents and incidents, CSA performance, liability, insurance costs, and other business costs. So, what are your requirements here?
Best Practice: Train 100% of Drivers
You are not legally required to provide most kinds of safety training to independent contractors (see HAZMAT exception under the next section below). But that doesn't mean you shouldn't require training from them. If they work with you, they're reflecting your company, and are tied to your company's costs and risks.
Best practice is to require independent contractors (owner/operators) to complete more than minimum safety training. This is to protect your business by keeping training consistent across your company–every driver, in every role, whether contractor or employee. If you want to mitigate major legal and financial risks, you can require contractors to take and pass some (or all) of the same safety courses you would require for an employee driver. 
It is NOT the case that owner/operators will become employees if you provide safety training. Don't let some of the new legislation we talked about earlier spook you. Training is one item you're allowed to require without creating a question about employment in the eyes of the law. 
There's a feeling among directors and safety managers that you have to keep independent contractors at arms' length. Managers are afraid they might start overstepping into "employee" territory or do something wrong. But especially when it comes to training, that's not the right approach. There are no muddy water here. 
Requiring driver training is not treating a contractor like an employee. It's not requiring something extra from them. It protects your business.
Training contractors: same or different?
It's best practice to require training for independent contractors, but you don't always have to require the same training as you do for employees.
What's the same
Two items are required for independent contractors. First, there are mandatory training requirements for all drivers transporting HAZMAT, including independent contractors. Additionally, there is a requirement that all drivers receive a copy of the drug and alcohol testing policy (you do not need to also provide training, just a copy of the policy). Make these two items clear to contractors from the start. The importance of these requirements is clear, so don't neglect them!
To choose which other safety courses you may want to require, start with courses that will help prevent and remediate some of the most common mistakes and violations, such as CSA Basics or Driver Skills Best Practices. 
Any training you require from contractors, above and beyond the minimum legal requirement, will only help your chances of mitigating road risks, financial risks, and legal risks. Extra training can double as continuing education and professional development for contractors. They can even use extra training as a highlight on their resume. 
To keep your values and goals clear and consistent, write participation in training into the owner/operator's contract.
What's different
One thing you don't ever need to do with independent contractors is train them on topics only related to company policy. For training related to the company and employee expectations, you're only wasting their time. Require safety training, but only safety training.
One way to do this efficiently is by using an online training system for your drivers. That way, you can easily separate the specific training courses they need from the ones they don't. 
Instead of packing all your drivers in a room twice a year and trying to cram six months of training into two days (hoping the ones who don't need company policy will forgive you and enjoy the coffee and free pastries!), customize your training by only sending different drivers what they need. That's saving them several days of being off the road, off the clock, or away from their families. Give them flexibility; only require the training they need, and it's a win-win.
Better drivers, better company
Training all your contractors means you're protecting yourself. It also means you're improving and increasing top-of-mind hazard scenarios for everyone who's on the road representing your company. You're building a culture of safety.
This ties right back in with CSA. If a company has independent contractors operating in their company under their operating authority, and if drivers have a violation, it doesn't matter how they're classified. You've still got to prove you're building and protecting a safety culture in your company. A violation from any driver has an impact on the company they're contracted with, impacts CSA records and performance, and reputation.
Building training into contracts is also good for contractors. Along with professional development benefits, training can help them with their insurance rates, potentially saving them money as well as mitigating their own legal and financial risks. 
Learn more about how Infinit-I Workforce Solutions transforms training for all drivers with an easy, efficient system. Protect your business, increase efficiency, and save money.
https://pwimagecdn.infinitiworkforce.com/wp-content/uploads/2019/08/VerticalAlliance_Blog_081519-1.jpg?strip=all&lossy=1&quality=90&ssl=1
216
935
infinitiworkforce
https://pwimagecdn.infinitiworkforce.com/wp-content/uploads/2023/03/Infiniti-i-Logo-Teal_padded-for-site.png
infinitiworkforce
2019-08-15 06:00:23
2023-07-18 15:06:26
Independent Contractors and Safety Training