Online DOT Safety Training
Why Over 1,500 Companies Trust Infinit-I for DOT Safety Training
Infinit-I Workforce Solutions offers DOT safety training online designed to simplify training, reduce accidents and violations, and save transportation companies time and money.
With over 1,000 training videos found in the Infinit-I library, transportation companies can find DOT training courses on a wide range of topics.
Do you need something specific for your company and can't find it in our library? We'll show you how to upload your own custom content to ensure you meet all your training needs.

With our built-in tracking and reporting tools, you can ensure you have all the records you need in case of a DOT audit. Click for more info on what triggers a DOT safety audit?
With online DOT training, you can cross off one of your biggest needs when it comes to your safety plan.
Get Ready for Your Next DOT Audit
Download our handy checklist to prepare for your next DOT audit. Let Infinit-I help you prepare for the next time the DOT comes knocking with our online training solutions designed to improve safety.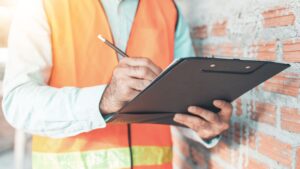 "SMT had a DOT inspector visit the San Antonio location, where he looked at the hazmat drivers and their training records. He was very impressed by the system used by SMT as well as the amount of training given to the employees via the Infinit-I training system." – Alex Ovalles, Safety Manager, Southwestern Motor Transport 
850+ DOT safety training videos on a wide range of transportation categories
DOT safety training content offered in English, Spanish, and French
DOT online training videos for truck drivers
CSA BASICs

Driver General Knowledge

Driver Skills Best Practices

Drug & Alcohol Training

Entry Level Driver Training Requirements
FSMA: Sanitary Transportation Rule

HAZMAT

Inspections

Law & Litigations
Maintenance

Online Training Best Practices

On the Job Injury Prevention

Human Trafficking

Canadian Training
Optimize Your DOT Operations with Our Comprehensive Audit Checklist
Take control of your transportation business and optimize your operations with our comprehensive DOT Audit Checklist. This invaluable resource includes all the necessary documentation and policies to align your operations with the Department of Transportation (DOT) regulations. From updated copies of the Federal Motor Carrier Safety Regulations (FMCSR) to proof of liability insurance, drug and alcohol use and testing policies, driver records, CDL and medical certificate tracking, inspection records, maintenance logs, safety plans, hiring policies, and more – our checklist covers every essential aspect.
By completing the DOT aduit checklist form, you'll gain exclusive access to this invaluable resource that will help you streamline your processes, minimize penalties, and maintain a secure and high-performing fleet. Don't leave your regulatory adherence to chance – download our DOT Audit Checklist today and set your transportation business on the path to operational excellence.
Transportation Microlearning improves driver retention and engagement. Drivers can Complete DOT Training in a Fraction of the Time.
Drivers will retain an average of 15% of the information using traditional training methods that take up to an hour to complete. Infinit-I uses microlearning techniques that break up training into videos that are 3-7 minutes long. This technique allows drivers to retain an average of 75% of the information.
Hour-long videos are difficult to complete on mobile devices and near impossible for drivers to retain. By comparison,  our microlearning content focuses on one succinct DOT safety topic at a time, significantly improving drivers' understanding of the material.
Your Personal Client Success Team is Here to Help. We Want to Be Your Partner in Safety Training.
Your dedicated Client Success team works with you to ensure you succeed with Infinit-I.
Your team will field all technology questions or concerns from drivers and set up a customized reporting systems for your company that makes assigning and analyzing DOT driver training as easy as pushing a button.
Learn more about how our Client Success team adds an extra employee to your company, at no additional cost. 
"I just passed a two-week long DOT audit with no violations and no fines. The documentation of training from Infinit-I was spot on." – Robert Moorehead, Risk Control Manager, B&B Trucking, Inc.