Infinit-I Helps Reduce Training Costs by up to 50%
Infinit-I Workforce Solutions is an online training management system that allows you to provide frequent and consistent online training throughout the year, while significantly reducing the costs of your employee training program.
Up to 80% of your training needs can be met with our online training, cutting costs on travel, food, and trainers' salaries; while increasing driver participation.
Our dedicated Client Success team is available to answer your questions and provide suggestions for how to get the most out of your training, at no additional cost!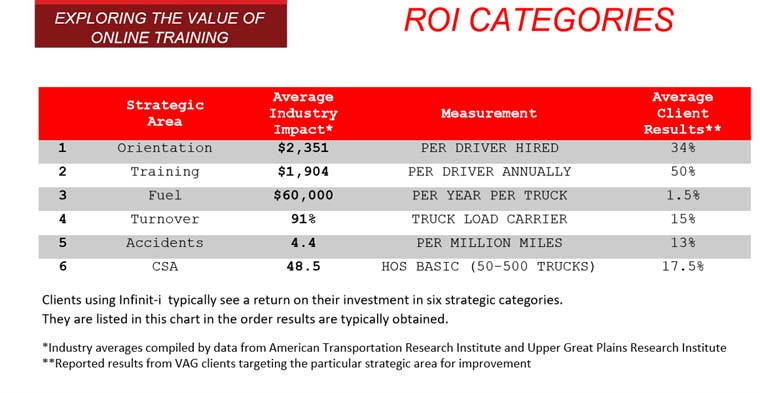 With a free ROI assessment, we can let you compare the results of your current training cost with the cost of utilizing Infinit-I to reduce your in-person training days and training expenses. The final result is the anticipated ROI.
Current cost analysis will be completed for any company request

# of Drivers Being Trained Annually

 

# of In-Person Training Sessions Annually 

Other Expenses (Meals/ Wages)  

Estimated Training Cost Per Meeting: 

Estimated Training Cost Per Year: 
This analysis is an estimate based on the information provided by your company. Any gaps in information will be filled in using industry averages and the minimum expected achievements reached by other Infinit-I Workforce Solutions clients.   
ROI results calculated by:
Estimated Per Year Savings – Net Annual Cost of Infinit-I = Net Savings
Net Savings / Net Annual Cost of Infinit-I = ROI 
Infiniti-I is a training, learning, & safety management system that empowers its users to optimize their training program while reduce training costs.
Expected ROI Results

 

Estimated Annual Cost of Infinit-I Services:

 

–

 

Net Annual Cost of Infinit-I Services:

 

–

 

Reduction in Training Sessions Time from Infinit-I: 

 

–

 

Estimated Per Year Savings:

 

–

 

ROI:

 

–

 
Start Cutting Training Costs Today
lnfinit-I has a proven record of reducing training costs and can help you do the same with our empowering training management system.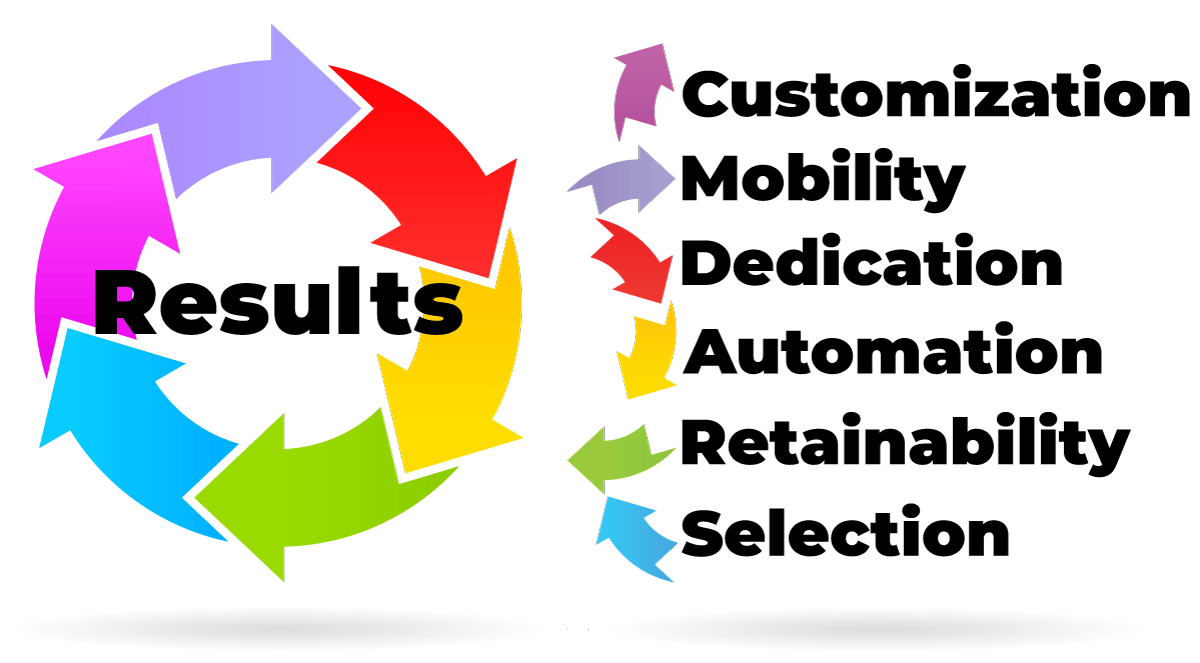 Customization
With the Infinit-I system, you can set up training schedules customized to your specific company needs. Set up consistent orientation training that can be completed before new drivers come in, allowing you to cut down on orientation time and costs.
Choose from our large library of videos, and upload the training you already have to keep everything in one place, making training easier for you and your drivers.

Mobility
The lnfinit-I platform provides online training that can be accessed from any device. We also have Apple and Android apps, making accessing training even easier.
Drivers can access training no matter where they are, so you don't have to worry about halting busy schedules and you can cut the cost of travel associated with brining everyone in-house.

Dedication
Our dedicated Client Success team will help you with initial set up and run through all the features available to help you optimize your training.
Your dedicate team is also available to answer any questions and provide suggestions to help you get the most out of your training program.

Automation
The Infinit-I system provides date and time-stamped documentation of all user activity, so you don't have to worry about keeping up with paper documentation of your training record.
All documentation is stored in your custom platform, so you can easily run and export training reports whenever you need them.

Retainability
Traditional training programs require hours of lost productivity and employees will only retain about 15% of the material covered. Infinit-I training videos provide short burst of information on specific topics.
Our library uses microlearning strategies that have been proven to increase focus, understanding, and retention of the information covered. You can complete training in half the time while ensuring the information will stick with them after.

Selection
The Infinit-I library has more than 850+ videos available, covering a range of topics necessary to maintain safety and regulatory compliance. You can also upload custom content for company-specific needs so you can provide consistent training that covers the topics most important to your needs.

Reduce Training Costs and Orientation Expenses
Infinit-I's online training management system allows you to provide the training that is essential for your success without cutting into busy workflows. Infinit-I can help you make training more cost effective and make training at all levels easier. Infinit-I also makes tracking training progress easier so you can have the information you need to defend your safety record.
REDUCE TRAINING COSTS
lnfinit-I has helped clients reduce training costs and can help any company do the same with our empowering training management system.  Get your free live demonstration today
Learning management system helps reduce training costs