We recently had the pleasure of speaking with the National School Transportation Association (NSTA) on their podcast, The Bus Stop. Stephanie Wilcoxson joined NSTA Executive Director Curt Macysyn to discuss how current clients are benefitting from the IWS platform and creating safer spaces for students and drivers.

Stephanie is the National Account Executive for the Student Transportation Division at Infinit-I Workforce Solutions. She hopes her contribution to The Bus Stop will raise awareness to an issue about which we are passionate, safe student transportation.
Student Transportation
---
Infinit-I Workforce Solutions began as a training course system to train truck drivers on safe practices. We began hearing chatter about the need for continued training in the student transportation space.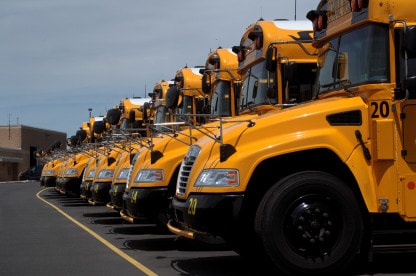 At that time, IWS began producing DVDs for school bus driver training purposes. The product was widely utilized by school districts and private transportation companies. As technology moved to support cloud-based systems, IWS evolved to maintain the needs of the market.
The Infinit-I platform is fully digital with mobile capabilities. Users can access their assigned training anytime, anywhere. Since we provide a cloud-based system, our content is constantly being re-evaluated and updated. As laws or regulations change, or information becomes outdated, IWS will temporarily suspend inaccurate videos. Our in-house video production team allows for timely and accurate rerelease.
Customize
---
Currents clients can browse our current resource library which boasts 400 safety training videos specifically regarding student transport. Admins can browse these titles and select the most relevant content. After a fleet evaluation, management can select the areas of driver behavior that need to be strengthened.
Admins who regularly evaluate their employees can easily pinpoint weaknesses within your fleet.  If a certain group of employees is struggling, management can deploy specific training for specific groups. Many clients state this is helpful before and after audits, tackle your lowest scoring sections and experience immediate improvement.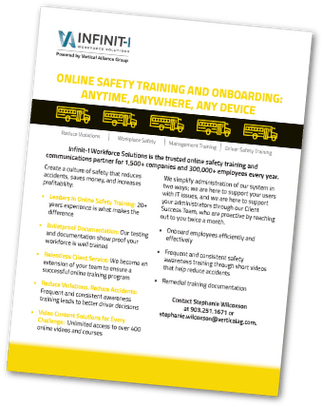 In addition to our current course offerings, the IWS platform allows each individual district or company to upload specific content that pertains to their company. There are no two school districts or bus companies that operate with the exact same policies and procedures.
Upload content that is specific to your company's culture or performance expectations. Whether it is your own videos, PDFs, or existing slideshows, you can assign it to your drivers along with our video content. Drivers can be tested on custom content. Management will receive the same documentation that it was completed and understood.
Bus Drivers
---
Your drivers will receive their own unique login information. Their assignments will be streamed to their computer, tablet, or mobile device. After completing the coursework, users can be tested on their knowledge retention.
Scenario: One of your drivers was recently in an accident and needs remedial training. Management can access the course library, locate courses that are specific to the type of accident, and assign courses directly to the individual rather than the entire fleet.
Every lesson, task, and test are recorded. Admins can view how long it took the driver to complete the course. The number of attempts will be recorded so you'll know if they failed to reach the acceptable grade. You can also view which test questions were missed, and from there, assign additional hands-on and specific training for areas in which the driver is struggling.
Student Transport and COVID-19
---
With new accommodations required by social distancing, in-person meetings have become increasingly difficult and risky. We've experienced many layoffs and furloughs due to school closures.
Social distancing is a major issue that is driving new clients to IWS. However, the main concern we receive from transportation executives is the need to properly communicate policies and procedures that are constantly changing.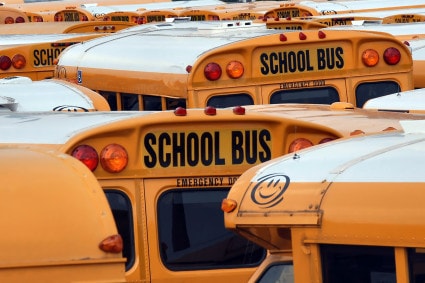 Bus companies have taken this "down-time" to put a hard focus on training. New considerations must be made as we begin to expand and onboard returning or new employees.
Transportation departments must communicate these changes during onboarding. Now is the time to have a platform in place with communication capability to support your onboarding influx.
IWS has recently experienced a surge in interest, referrals, and users as transport companies are returning to a pre-pandemic level of operation, but with new and ever-changing operating procedures. The documentation functionality of IWS eliminates the, "I didn't know we are supposed to do it that way now," reasoning you often receive.
WEBINAR: NSTA EXCLUSIVE
---
Thursday 9/24 at 11:30 am ET / 10:30 am CT Join Stephanie as she presents a live demonstration of the IWS platform. Get a visual of how easy it is to use and how it will improve your safety culture. We will be taking live questions during the webinar.
What you can expect:
Intro from NSTA guest speaker, Jessica Pinkerton
Live presentation of INFINITI
Operational scenarios INFINITI can address
Administrator's view of the platform
A glimpse from the driver's perspective
Open dialogue through Q&A

https://pwimagecdn.infinitiworkforce.com/wp-content/uploads/2020/09/SchoolBlogPostHeader-091420.jpg?strip=all&lossy=1&quality=90&ssl=1
262
935
Jesse Mullinax
https://pwimagecdn.infinitiworkforce.com/wp-content/uploads/2023/03/Infiniti-i-Logo-Teal_padded-for-site.png
Jesse Mullinax
2020-09-11 15:23:53
2023-08-10 12:47:18
Back to School Best Practices for Student Transportation