Vertical Alliance Group is committed to ensuring you have access to the best training videos in the student transportation industry. This month we released one new safety training video for you to utilize in your safety training meetings and in-services.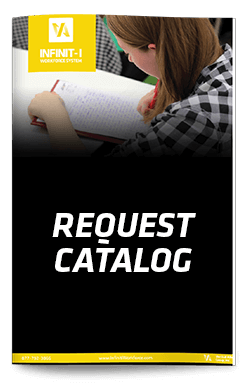 Incidents and Procedures This video discusses the proper procedures for handling a traffic incident. Remember to remain calm and keep your students as your main concern. Module: School Bus – Incidents and Procedures
Additionally, we released 4 new videos in the From the Bus Driver's Seat series for you to assign to your drivers. From the Bus Driver's Seat is a weekly series aimed at giving your drivers weekly reminders of best practices when driving a bus.
Don't Take a Chance, Give a Glance This video discusses teaching your passengers to look before they exit the bus.
Using a Mirror Grid Station This video discusses the importance of proper mirror adjustment and how to use a grid station for that purpose.
The Wait a Minute Hand Signal This video discusses the uses of a "Wait" hand signal and how to teach students its proper use.
Choking Hazards on the Bus This video discusses how to avoid choking hazards on the bus.
If you are currently utilizing Infinit-I Workforce System, please contact your client services representative at 877-792-3866, ext. 400, if you have any questions. If you are not yet utilizing the Infinit-I Workforce System, schedule a demo for more information.
https://pwimagecdn.infinitiworkforce.com/wp-content/uploads/2023/03/Infiniti-i-Logo-Teal_padded-for-site.png
0
0
infinitiworkforce
https://pwimagecdn.infinitiworkforce.com/wp-content/uploads/2023/03/Infiniti-i-Logo-Teal_padded-for-site.png
infinitiworkforce
2015-10-14 19:00:00
2023-08-04 12:50:57
Adds 5 New Training Videos for Schools