HOS Regulatory Changes Take Effect Late September – Upcoming Expert Panel Says: "Prepare Fleets Now."

FMCSA Hours of Service changes are taking effect on September 29, 2020. We will be speaking with the president of Scopelitis Trucking and Consulting, David Osiecki, to review what the HOS changes mean for your drivers.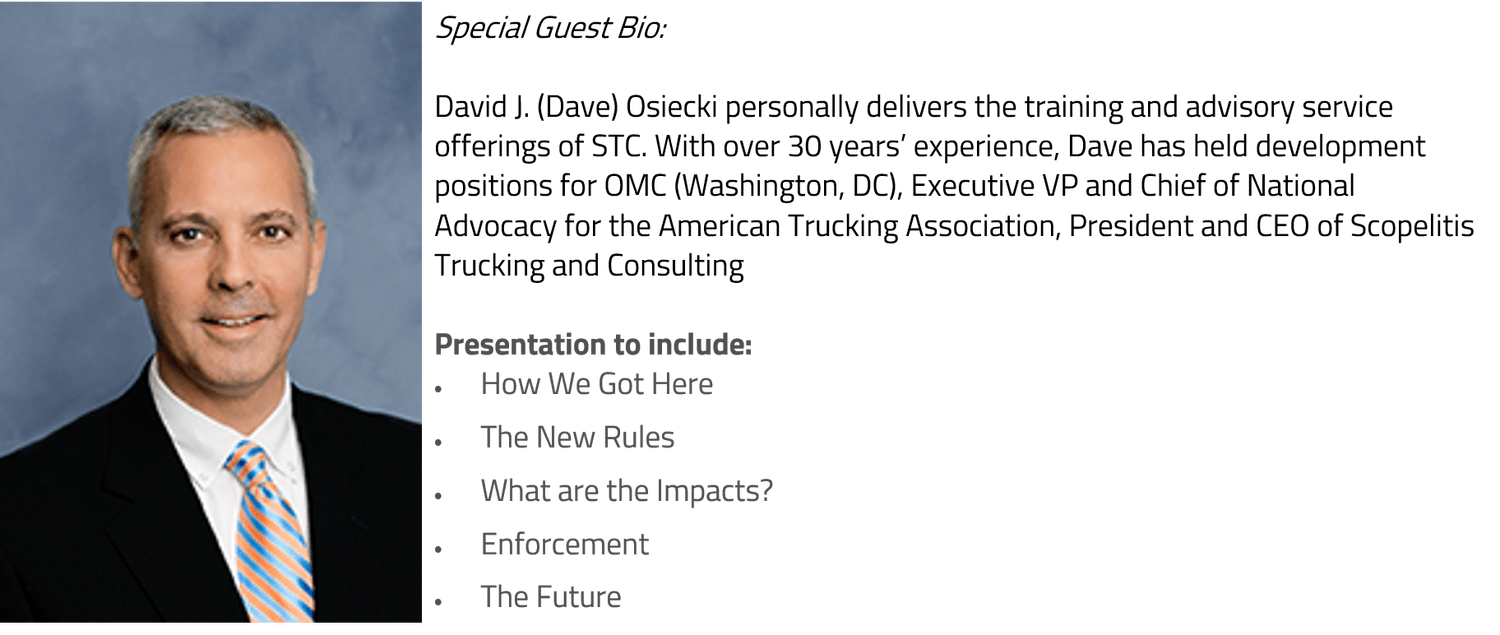 If you are not familiar with the new HOS regulatory changes, a thorough explanation has been provided below. Join us for our upcoming webinar to learn how these changes will impact your fleet.
September 17, 2020 @ 10:30 am CST

---
Pages 8-9 of the final ruling state the changes will include:
– The 30-minute Break
– Introducing the 7/3 Split
– Adverse Driving Conditions Exception
– The Short-haul Exception.
The 30-Minute Break
---
Drivers are still required to take a 30-minute break after 8 consecutive hours on duty. Previously, the break was only valid if the driver was in an off-duty status. (off-duty or sleeper berth). Now, the break is valid during on-duty functions if you are not driving.
Drivers can now legally take a 30-minute DOT break while:
– Watching Safety Training Videos
– Waiting in line at the shipper/receiver
– Fueling or waiting in line at the fuel pump
– Co-driver sitting in the passenger seat
– Filling out paperwork
– Loading/Unloading/Lumping
Just switch your status to On Duty – Not Driving.
The New 7/3 Split
---
The 8/2 split rule is just as complicated as it is helpful. This new HOS ruling expands a driver's resting options. In addition to the typical 10-hour break or 8/2 split, the FMCSA is introducing the 7/3 split.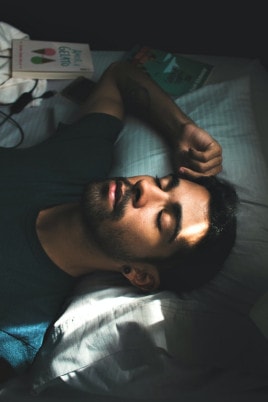 The new 7/3 split rule works the same as the 8/2 split. It takes some drivers years to master the concept.
With the new rule, the driver can go into the sleeper berth for a full 7 hours. When he wakes up, he can use all the on-duty time that was leftover from before his break.
After completing his on-duty functions, he must go back into an off-duty status for at least 3 hours to complete his 10-hour break.
CONFUSING, RIGHT?
In essence, a split will pause the 14-hour on-duty window. When he comes back on duty, he will only have the leftovers from before his 7-hour break. So, if he drove 8 out of 11 hours, after the 7-hour break he can drive the remaining 3 hours.
When he comes out of the sleeper, the 14 starts running again. Since he was on-duty for 8 hours before the 7-hour break, his 3 hours of drive time must be used before his total 14 runs out. He would have 6 hours on duty to get in 3 hours of driving.
Adverse Driving Conditions Exception
---
Under this exception, two extra drive hours are available to drivers who encounter irregular and unforeseen circumstances that may have slowed your travel. This exception can now be applied to passenger-carrying CMVs.
ADVERSE DRIVING CONDITIONS EXAMPLES:
– Sinkhole or downed powerline that causes a delay
– Traffic accident that shuts down traffic
– Sudden tornado, snow, fog, etc. that was not in the forecast.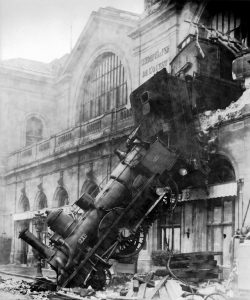 If you qualify for this exception, you can now drive up to 13 hours as long as you do it within your 14-hour window. Keep in mind, it does not take away your 30-minute break or extend your 14.
This exception does not extend your 60 or 70-hour clock. If you only have 4 hours left on your DOT clock, you will only be allowed to drive out those 4 hours plus the additional 2 hours.
Drivers must follow up with a full 10-hour break. You are not allowed to split rest hours after taking advantage of this exemption.
NOT QUALIFIED EXAMPLES:
– Adverse weather you knew about or could have discovered by trip planning
– Traffic jams during normal rush hour times
– Snowstorm in the winter in North Dakota
– Loading and Unloading delays
The DOT strongly recommends you log that you were taking advantage of 395.1 Adverse Driving Conditions Exception.
Short-haul Rules
---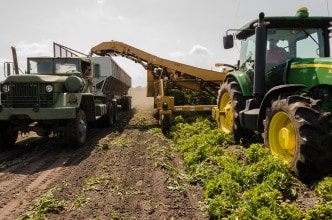 Previously, drivers using the short-haul exemption, staying within an air radius of 100 miles, could not be on duty for more than 12 hours. Short-haul drivers within a 150-mile radius cannot drive beyond the 14 or 16th on-duty hour (depending on the number of days on duty).
This revision extends the radius from 100 to 150 air-miles for all short-haul drivers. It extends the maximum duty period allowed from 12 hours to 14 hours.
Special Offer!
---
For future IWS clients, we want to get you started for free. Get your free Infinit-I 30-day Complimentary Trial. No Obligation. No Risk. Simple Communication.
For More Information:
---
Top 6 Trucking Industry Updates for Safety Directors – Q4 2020
Drastically Reduce Detention Pay with New HOS Regulation – Split Duty Proposal
"It's More than Rain." Three Tractors Overturned, My Driver Made the Right Call
My Best Friend, the Trucker: How We Transformed the Dispatcher & Driver Relationship
https://pwimagecdn.infinitiworkforce.com/wp-content/uploads/2020/09/Depositphotos_131462242_xl-2015-scaled.jpg?strip=all&lossy=1&quality=90&ssl=1
1833
2560
Jesse Mullinax
https://pwimagecdn.infinitiworkforce.com/wp-content/uploads/2023/03/Infiniti-i-Logo-Teal_padded-for-site.png
Jesse Mullinax
2020-09-15 17:06:14
2023-09-07 14:49:20
HOS Regulatory Changes Take Effect Late September – Upcoming Expert Panel Says: "Prepare Fleets Now."