We at Infinit-I Workforce Solutions are learners at heart and value knowledge. We want to use that pursuit of knowledge to fight a disease that's stealing the minds of over 6.5 million Americans. Alzheimer's disease is the 5th leading cause of death among individuals aged 65 or older. In 2019 alone, the US had 121,499 deaths directly due to Alzheimer's disease.
The Alzheimer's Association funds research worldwide and is currently investing over $310 million in 950 projects around the globe. These research projects are focused on advancing the understanding of Alzheimer's disease and dementia, identifying new treatment strategies, improving care and support for people with dementia and their families, and furthering knowledge of brain health and disease prevention.
To do our part, we are participating in the 2023 annual Walk to End Alzheimer's. This is the world's largest fundraiser for Alzheimer's care, support, and research. We need our friends' support in this effort.
For our company and associates, we have set a goal of $2,000! Please consider giving on our dedicated Walk to End Alzheimer's donation page.
FIGHT TO END ALZHEIMER'S 2022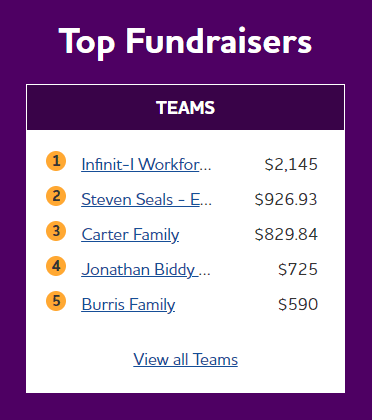 The video is about the 2022 Walk to End Alzheimer's event in Texarkana, TX, where the "Infinit-i Workforce Solutions" team from "Vertical Alliance Group" participated with over 30 employees and raised $2,145. Randy shares personal stories of caring for their uncle and mother who were affected by Alzheimer's, emphasizing the importance of support and determination to find a solution to the disease.
Join us in the 2023 Walk to End Alzheimer's event in Texarkana, TX, on Saturday, September 30, 2023, as we gather to support and raise awareness for those affected by Alzheimer's disease. Your presence and participation can make a meaningful difference in this important cause.