Safety Management System (SMS)

Learn about safety management systems, how to implement a safety management system, and the return on investments with integrating with our SMS.
What is Safety Management System?
Safety Management System (SMS) is a training management platform that provides tools designed to improve and optimize safety risk in the work place to prevent people from getting hurt. These SMS tools should be accessible anytime and anywhere on all digital devices.
Infinit-I's safety management system takes a businesslike approach to training that is systematic and comprehensive for managing safety risks that should be become apart of the culture and they way employees do their jobs.
There are three necessities for implementing a safety management system in your business such as, ethical, legal and financial.
1. Businesses are obligated to ensure that work activities are safe.
2. Requirements defined by all jurisdictions on how safety is to be achieved.
3. Substantial evidence which shows that safety management can reduce the financial exposure and damage to organization by reducing accidents.
To address these three elements, an effective SMS should:
Define how the organization is set up to manage risk.
Identify workplace risk and implement suitable controls.
Implement effective communications across all levels of the organization.
Implement a process to identify and correct non-conformity and non-compliance issues.
Implement a continual improvement process.
The foundation of Infinit-I's safety management system are effective risk management tools that provide any organization the ability to identify and target high risk areas, assess, evaluate and assign corrective actions, and then documented within the safety management system easily accessible for audits.
Quality training is essential to maximizing the return on investments (ROI) of your employees and team. Our safety training solution helps companies develop a culture of excellence while delivering a practical, impactful, and engaging experience. Our easy-to-follow, proven safety awareness training model and SMS tools are designed to increase business success and mitigate risks.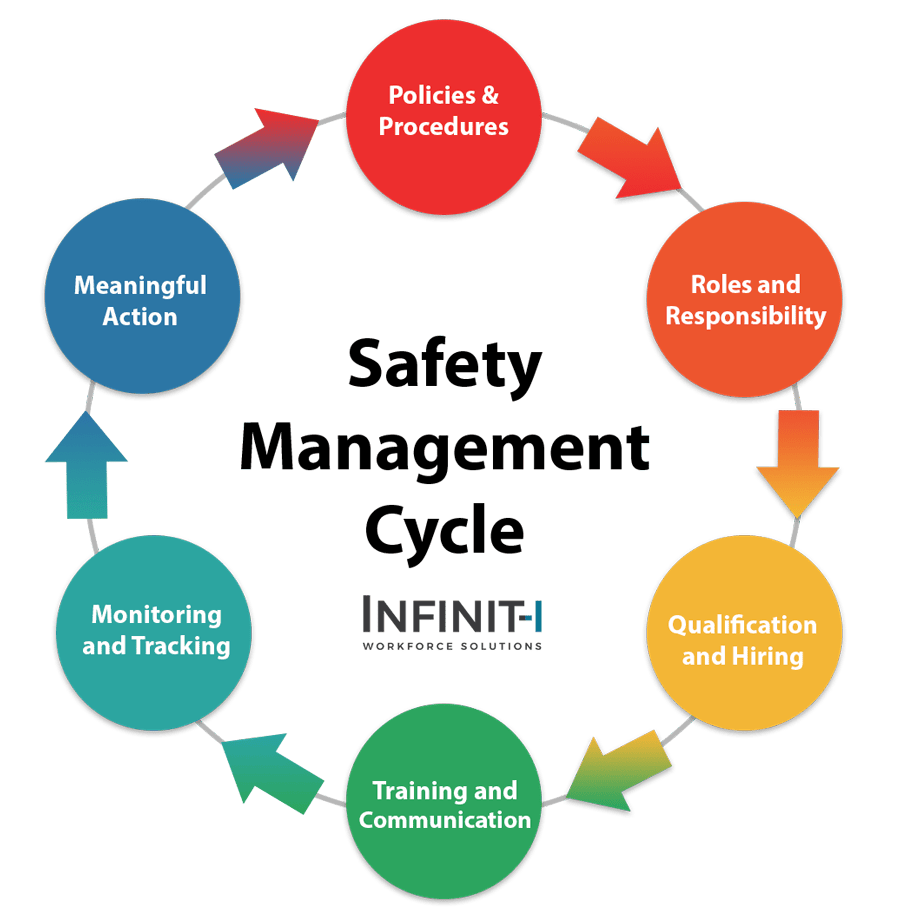 Our safety management systems streamlines the process of employee safety training so you can focus on what matters.
Work smarter, not harder
We take the pain out of employee skills training. With Infinit-I Workforce, you'll have more time to do what you do best – manage and grow your business. And with our mobile app, your employees can train anytime, anywhere. 
Train more, save more.
It's simple math: the more time you invest in training your employees, the fewer accidents they'll have, which means lower expenses and more profit for your business. Our software makes it easy to introduce new processes and optimize safety without disrupting your workflow. 
Instantly train employee skills without compromising quality. 
Think of it as an on-demand workforce as a service. Adding your specific training lessons is easy. Plus, our video library is chocked full of quick ~6 minute videos — just pick what you want to show them, and Infinit-I will do the rest! On-demand training means you can get it done whenever you need to.  
Increase awareness for all types of workforce needs 
HR compliance? 

We got that.

 

 

EEOC compliance? 

Check. 

 

Train employees on how to use the equipment? 

We got you covered! 

 

No matter the type or length of training, we have you covered.

 
Infinit-I Workforce Solutions Digital Learning Management and Communications provide a way for organizations to stay on top of their employees through a simplified digital learning platform and ongoing communication. Achieving your goal is only a click away with Infinit-I Workforce Solutions.​​ 
Schedule a demo today to find how Infinit-I will help you to continue to grow!
Upskill your workforce without disrupting workflow
Regulatory Pressure
Setting and administering Standard Operating Procedures must be in place so employees function productively and safely.
State and Federal Agencies, Financial Industry (SEC – FTC), Health and Safety (OSHA – EPA – FDA),  Business and Employment (ICC – EEOC), and others.
Safety Sensitive Operations
According to the National Safety Council, a worker is injured on the job every 7 seconds. That's over 4,000 injuries in an average workday.
All of us should do our part to make that a smaller number – and we can!
Effective all industries safety management system provides ongoing training that raises safety awareness and makes us all safer employees.
Employee Productivity
Creates loyal employees–promotable employees–employees engaged in their work.
The more well prepared the employee, the better the company's performance and productivity.
TRAINING SPECIALLY DESIGNED TO EMPOWER YOUR EMPLOYEES
Infinit-I includes a comprehensive video training library with our all industries safety management system LMS. Each video is focused on an important topic, and most take about 8 minutes to complete. The videos harness your employee's inherent ability to improve their performance in the field.
Management has the ability to see who's taken the training and can measure individual or group comprehension levels in just seconds.
In addition, a dedicated client success representative will work with you to ensure your success, fielding all tech questions from employees and creating customized reporting that makes assigning and analyzing training as easy as pushing a button within our all industries safety management system LMS.
MICROLEARNING EMPLOYEE TRAINING VIDEOS FOR EVERY WORKPLACE SITUATION
Infinit-I Workforce Solutions is an employee training software and digitally transformed all industries safety management system LMS. Clients of Infinit-I receive instant, unlimited access to our entire video library, which includes over 800+ learning modules.
Each Infinit-I Workforce Solutions video is focused on one succinct topic, and averages between 3 to 7 minutes long. These microlearning videos increase comprehension and retention, improving your workforce efficiency and positively impacting your bottom line.