June is National Safety Month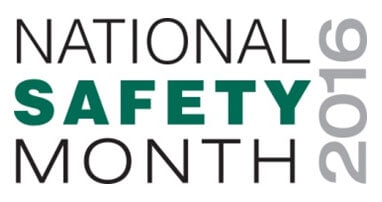 June is National Safety Month, and thousands of organizations across the country have joined forces with the National Safety Council (NSC) to work to raise awareness of what it takes to stay "Safe for Life". Each week in June, the NSC will be highlighting a different safety topic, with June 27th-30th designated as "Share the Roads Safely" week. In observance of this month, we have put together ideas for you to share with your drivers.
5 Ideas to Help Observe National Safety Month at Your Company
1. Assign Out Videos from Our Real. Life. Lessons. Video Series Our Real. Life. Lessons. videos are produced in conjunction with Midwestern Insurance Alliance and use sample stories to bring awareness of preventable on-the-job accidents using a conversational style. Each month we release new stories available exclusively to those with access to the Infinit-i Workforce System. The goal of each short video is to help you reduce the number of on-the-job injuries, thus keeping your worker's compensation insurance premiums down.  If you're not currently an Infinit-I Workforce System user, you can click here to test drive the series!
2. Register for Our Free Webinar: Conquer Distracted Driving This presentation by safety and performance improvement expert, Terry L. Mathis, will familiarize you with ACE (Attention, Control, Eyes on Road) and how you can use this technique with your drivers to curtail distractions and ensure road safety while driving. ACE can help to address the three most common types of distractions, and can be used in conjunction with other training programs. There is no cost to attend the webinar, scheduled for Thursday, June 16 at 10 a.m. CST.
3. Watch Our Driving Through Work Zones Video Our Driving Through Work Zones video focuses on special considerations drivers should be aware of while driving through areas under construction including: speed road conditions, time of day, and lighting.  Your client service representative can assign this video out to your drivers to watch this month.  If you don't currently utilize Infinit-i Workforce System for your learning management system, request a demo, and we'll send you a copy of the video for you to watch, too!
4. Watch the Interview with the 2015 ATA Safety Director of the Year Allan Hicks was named the 2015 ATA Safety Director of the Year.  As the safety director at BR Williams, Allan took his training program online using the Infinit-I Workforce System.  His advice for other safety directors is simple, "Look for all the available tools out there to be used in every aspect of a safety program," he said. "Start working on culture and then start making everyone aware of how the company feels about safety, and then find ways to be able to hold them accountable."
5. Download the NCS Safe Driving Tip Sheet The National Safety Council has designed two blog articles you might incorporate into your monthly safety meeting or newsletter.  Those articles are entitled, "Drowsy Driving & Worker Safety" and "Patience Pays Off in Work Zones".
---